When you think of braces, you likely think of the traditional metal braces that most of us are used to seeing. While that's still a very popular option, the technology has evolved, and there are several other choices.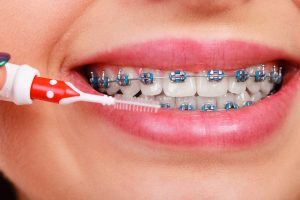 Traditional Metal Braces
These are the braces that everyone is used to seeing. Traditional metal braces work by attaching metal brackets to your teeth and connecting those brackets with wires. We strategically adjust the wires to straighten your teeth throughout the process.
Pros
They're affordable
Traditional metal braces are popular mainly because of their cost. Metal braces are more affordable than newer braces or Invisalign.
They handle complex cases well
If your teeth need more intensive correction, traditional metal braces tend to be your best choice. They're durable and can adjusted in all sorts of ways, meaning they handle unique cases the best.
They come in a variety of colors
Show off your personality with fun colors! Traditional metal braces allow you a bit of style and flair after your adjustments.
Cons
They're the most conspicuous option
Traditional braces have come a long way, and they're definitely more low-profile than they used to be. Still, they're the most obvious option of the four main types of braces.
They're more uncomfortable to start
While our technology has come a long way, and braces are much more comfortable than they used to be, the start can still be uncomfortable. While it gets better as you go, some patients find discomfort in their first few adjustments.
Ceramic Braces
Ceramic braces function in the same way as traditional metal ones. You attach the braces to the teeth and use wires to adjust the teeth over the treatment period. However, they're the same color as your teeth, making them less noticeable than the traditional option.
Pros
They're less noticeable
If you're worried about how braces will look, ceramic ones are much less noticeable. This makes them popular among older teenagers and adults.
They're generally more comfortable
The initial adjustment period to ceramic braces is shorter than traditional ones. Plus, the ceramic is less abrasive, so you won't have to worry about irritation in your gums or inside of your cheeks as much.
They're usually faster than clear aligners
Ceramic braces are a good combination of the pros of Invisalign and traditional braces. They adjust your teeth fairly quickly, all while being less noticeable.
Cons
They're not as efficient as metal braces
While more efficient than clear aligners, they're less efficient than traditional braces.
They're not as durable as metal braces
The likelihood that you break one of your braces is low, certainly. Ceramic braces are still very durable. However, if durability is a concern, you want traditional metal braces.
Invisalign
Invisalign is the most well-known type of clear aligner. Invisalign offers you clear, removable trays that adjust your teeth in the most convenient way possible. You can take them out when you're eating, and, as the name suggests, they're basically invisible.
Pros
They're almost invisible
It's really hard to tell when someone is wearing Invisalign, which makes it a great option for adults who don't want the look of braces.
They're comfortable
Invisalign is a much more comfortable alternative to braces.
They're convenient
You can take them out when necessary. You won't have to worry about food restrictions or the complexity of brushing your teeth with traditional braces.
Cons
They aren't the most affordable option
All this convenience does come at a cost. While there are absolutely ways to make Invisalign affordable, it won't be cheaper than traditional braces
They aren't the fastest option
Because of how comfortable Invisalign is, it takes longer to adjust your teeth.
Lingual Braces
Lingual braces are like traditional metal braces, except they sit behind the teeth (on the 'lingual' side). They usually require more customization, though they're the most discrete option.
Pros
They're incredibly discrete
Since they sit behind your teeth, it's completely possible no one will know you have braces on!
They're great for complex cases
Since lingual braces tend to be more customized, they work for a wide range of orthodontic cases.
They're more comfortable in some cases
Lingual braces have mixed reviews. Some studies have found they're as comfortable as traditional braces, but others have found lingual braces to be much more pleasant.
Cons
They're more expensive
Lingual braces are generally more complex and, therefore, more expensive. If you don't need custom ones, the cost difference will be less. If you need custom lingual braces, though, they can be less economical.
They can be more challenging to repair
Since they sit behind the teeth, repairing a broken bracket is more challenging than it would be for traditional braces.
All four of these braces options have their pros and cons. If you want to learn more about which option is right for you, contact Reuland and Barnhart Orthodontics, and let us walk you through them!